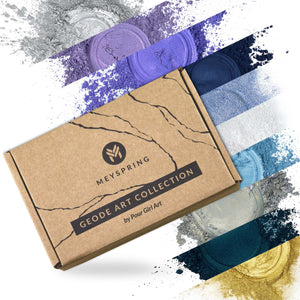 Geode Art Collection | Resin Pigments plus Online Course
Sale price Price $39.00 Regular price
Each MEYSPRING pigment in this collection has been carefully hand-picked, so the right color combo is ANY color combo because they all harmonize and complement each other perfectly. So you can blindly choose a bunch of them and go straight to create stunning resin art pieces following the in-depth tutorials in the Online Course included in your purchase.  
Online Course Included in your Purchase
Make the most out of the pigments in this Collection with THE POUR GUIDE included in your purchase, an insightful FREE online course by an experienced resin artist. Learn her signature Geode Art technique, plus tons of tips & tricks to navigate the fascinating world of pouring resin from beginner to pro.
From Micas to Glitters

We know it takes more than one kind of epoxy pigment to get jaw-dropping results in your Geode Art pieces. So this collection has true metallic pigments, mica powders, and fine glitters for you to combine and add that "wow factor" to your artwork. 
Complete your purchase with the Best Epoxy Resin for Geode Art
While MEYSPRING pigments are not harmful, we always recommend wearing a dust mask and protective eyewear to prevent fine pigment particles from entering the lungs and eyes. If you get pigment powder in your eyes, immediately flush them with water. Do not ingest or directly inhale the pigments. 
As all MEYSPRING pigments are cosmetic grade and FDA-approved for makeup purposes, they are safe to handle without gloves and do not stain your clothing or skin. Wash your hands with hot water and soap to remove pigment from your skin.
Check out this blog article for more information on working safely with pigment powders and epoxy resin.