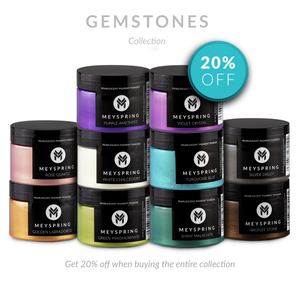 Gemstones Collection - 10 Resin Pigments - 500g
Sale price Price $164.00 Regular price $205.00
GET 20% OFF THE ENTIRE COLLECTION
MEYSPRING Gemstones Collection was inspired by the beauty of natural geodes. These mica-based pearlescent pigments will easily recreate unique nature color combinations in your resin art projects. Achieving outstanding results when creating resin geodes has never been easier. One-of-a-kind color selection for your geode art adventures.
While MEYSPRING pigments are not harmful, we always recommend wearing a dust mask and protective eyewear to prevent fine pigment particles from entering the lungs and eyes. If you get pigment powder in your eyes, immediately flush them with water. Do not ingest or directly inhale the pigments. 
As all MEYSPRING pigments are cosmetic grade and FDA-approved for makeup purposes, they are safe to handle without gloves and do not stain your clothing or skin. Wash your hands with hot water and soap to remove pigment from your skin.
Check out this blog article for more information on working safely with pigment powders and epoxy resin.