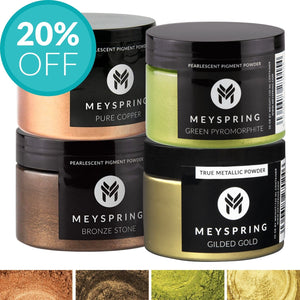 Fall Color Palette - RUSTIC AUTUMN
Sale price Price $61.00 Regular price $76.00
Get 20% OFF our RUSTIC AUTUMN color palette!
The pigments in the "Rustic Autumn" palette reflect fall's timeless beauty in contrast to its vivid colors. They capture the season's earthy, cozy, and serene qualities while adding an elegant accent with a lively green and a gorgeous metallic hue. Combined, these four colors will deliver a vibrant feeling to any resin art or craft project this fall.

We can't wait to see what you'll create with this palette. Use the hashtag #MeyspringPalettes on social media to let us know how you like it!
Included in the Rustic Autumn Color Palette: