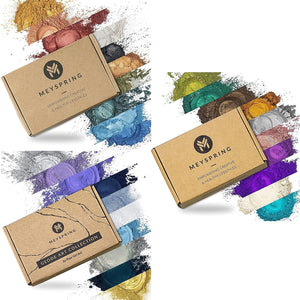 30 Resin Pigments plus Resin Art Online Course
Sale price Price $57.74 Regular price $67.93
Get 15% OFF
 ALL MEYSPRING Pigments!
 And learn how to create stunning resin art pieces with the Online Course included in your purchase! When ordering this bundle you'll get:
30 MEYSPRING Pigments (Mica Powders, Glitters, and True Metallic Pigments)

10g/0.35oz each

Free Resin Art Online Course featuring 4 full-length Tutorials

1x THE GEMSTONES COLLECTION - 10 unique pigment powders specially formulated for resin art and inspired by the beauty of natural stones and crystals. This vibrant palette of mica pigment powders is perfect for resin jewelry or epoxy art projects but also FDA-approved for cosmetic purposes and many other applications like DIY Body Lotions, Nail Art, and Soap making.

1x THE TWO TONE COLLECTION - The pigments in the MEYSPRING Two Tone Collection build a range of intense colors in several shades that will definitely enhance and embellish your arts and crafts projects. A mica powder base coated with Titanium Dioxide and/or Iron Oxide creates a pearly special effect by combining light interference with the light absorption of an added colorant. At the specular angle, the interference color is seen; at other angles, the mass tone of the additional coating dominates.

1x THE GEODE ART COLLECTION - 10 carefully handpicked colors in this collection to perfectly match each other, so the right color combo is any color combo! These Micas, True Metallics, and Glitters will embellish your geode-inspired resin project and create the perfect accents and special effects.
1x FREE Resin Art Online Course: When purchasing the 3 sample sets, you get a FREE Resin Art Online Course to learn from A to Z how to create stunning Resin Geodes on several surfaces.
Complete your purchase with the Best Epoxy Resin for Art.
While MEYSPRING pigments are not harmful, we always recommend wearing a dust mask and protective eyewear to prevent fine pigment particles from entering the lungs and eyes. If you get pigment powder in your eyes, immediately flush them with water. Do not ingest or directly inhale the pigments. 
As all MEYSPRING pigments are cosmetic grade and FDA-approved for makeup purposes, they are safe to handle without gloves and do not stain your clothing or skin. Wash your hands with hot water and soap to remove pigment from your skin.
Check out this blog article for more information on working safely with pigment powders and epoxy resin.