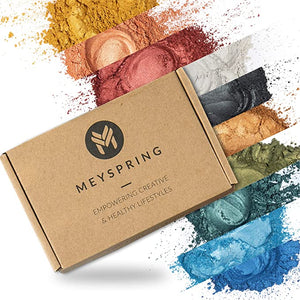 Two Tone Collection - Sample Set - 100g
Sale price Price $19.99 Regular price
NEW GENERATION OF PIGMENT POWDER

The pigments in the MEYSPRING Two Tone Collection build a range of intense colors in several shades that will definitely enhance and embellish your arts and crafts projects. A mica powder base coated with Titanium Dioxide and/or Iron Oxide creates a pearly special effect by combining light interference with the light absorption of an added colorant. At the specular angle, the interference color is seen; at other angles, the mass tone of the additional coating dominates.
100% NATURAL, SKIN SAFE, VEGAN, AND ECO-FRIENDLY
Our mica powders are cosmetic grade and FDA approved for makeup purposes such as:
Lipstick
Eyeshadow
Blush
Lip balm
Lotions and creams
Nail polish
The results coloring arts and crafts projects and DIY ventures are amazing as well. The Two Tone collection is definitely great for: 
Polymer Clay
Candle Making
Alcohol Inks
THE MOST VERSATILE PIGMENT POWDERS
Since our micas are very fine particle pigments (10-60μm) non-toxic and inert, they can be mixed into virtually any viscous, transparent medium and applied to any surface. Below some of the many mediums you can color with this set:
Epoxy Resin
Plastic Resins
Screen Printing Inks
Gravure Inks
Latex
Rubber
Plastidip
Halo EFX
Embossing
Automotive paint
Lacquer
Fiberglass
While MEYSPRING pigments are not harmful, we always recommend wearing a dust mask and protective eyewear to prevent fine pigment particles from entering the lungs and eyes. If you get pigment powder in your eyes, immediately flush them with water. Do not ingest or directly inhale the pigments. 
As all MEYSPRING pigments are cosmetic grade and FDA-approved for makeup purposes, they are safe to handle without gloves and do not stain your clothing or skin. Wash your hands with hot water and soap to remove pigment from your skin.
Check out this blog article for more information on working safely with pigment powders and epoxy resin.