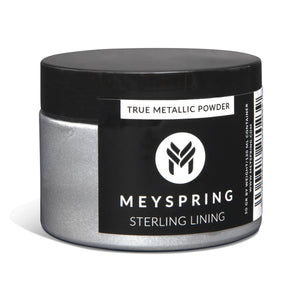 Sterling Lining - True Metallic Pigment Powder - 50g
Sale price Price $24.00 Regular price $27.00
THE GEODE ART COLLECTION - NOW IN JARS
Like every other resin colorant in the Geode Art Collection, Sterling Lining True Metallic Powder has been handpicked to harmonize and complement each other, so the right color-combo is any color-combo! This collection has all you need to succeed in Geode Art.
TRUE METALLIC PIGMENTS
Unlike micas, metallic pigments' silvery appearance comes from real metals like Aluminum powder. You only need a tiny amount of this silver chrome pigment powder to color epoxy resin. 
Since these pigments are inert and do not react or dissolve in almost any medium, they are incredibly versatile. You can use MEYSPRING metallics with resin, acrylic paints, nail polish, mod podge, car paint, silicone, cosmetic applications, etc. You can even decorate the surface of candles and color polymer clay with them.
Particle size: 15-45μm
Main Ingredients: Aluminum, Silicon Dioxide
FDA Approved: Safe for external use on skin, face, and around eyes. These pigments are not permitted in lip products to avoid internal consumption.
MIXED INTO EPOXY RESIN
Metallic pigments create a solid, shiny finish when mixed into resin. The mixture results in a jaw-dropping "liquid metal" look and the beloved floating-silver chrome effect. However, these pigments don't contain any sparkle or shimmer. As these pigments' bases are naturally occurring metals, you'll get an authentic metal appearance when the resin has cured. With metallic pigments, the result will usually be opaque.