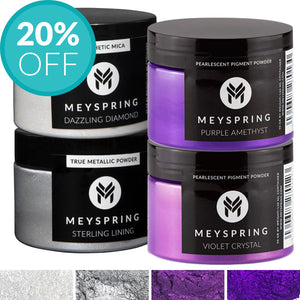 Holiday Color Palette - Sparkly Night
Sale price Price $47.05 Regular price $58.85
Get 20% OFF our SPARKLY NIGHT color palette!
Add a touch of festive splendor to your holiday projects with unparalleled sparkle from Dazzling Diamond, the elegant beauty of our purples, and the sophistication of metallic accents that only our Sterling Lining can provide. Express the magic and grace of the holidays with the stunning pigments in this color palette.

We can't wait to see what you'll create with this palette of versatile, non-toxic, and inert pigment powders. Use the hashtag #MeyspringPalettes on social media to let us know how you like it!
Included in the Jingle Bells Color Palette:
1x Dazzling Diamond
1x Sterling Lining
1x Purple Amethyst
1x Violet Crystal